Welcome
If you're a junior attending Benson, Bowie, Buena, Patagonia, St. David, San Simon, Tombstone, Valley Union or Willcox high schools, attending a private or home schooled, you are eligible to compete for the next Washington Youth Tour!
---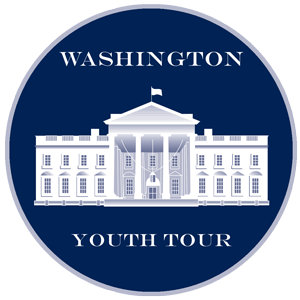 The Program
Since 1981 Sulphur Springs Valley Electric Cooperative (SSVEC) has sponsored six high school juniors on all-expense-paid trips to Washington, D.C., for one week each June. Students attend seminars and meetings sponsored by the National Rural Electric Cooperative Association, visit Congress and the White House, and see the sights of our nation's capital.
Funding for the annual Washington Youth Tour is supplied by the Sulphur Springs Valley Electric Cooperative Foundation. SSVEC follows legal requirements to return money (refundable deposits, fees, and capital credits) to our members. If the Cooperative is unable to locate individuals, the money is contributed to the Foundation. Before the establishment of the Foundation in 1984 this money was forfeited to the state of Arizona. Voluntary contributions to the Foundation are also accepted.
---
The Process
The Washington Youth Tour program is open to all high school juniors in schools served by SSVEC or to any high school juniors living in SSVEC's service area.
SSVEC representatives offer presentations in nine area high schools to introduce the program each year. These high schools are San Simon, Bowie, Willcox, Valley Union (Elfrida), Tombstone, St. David, Benson, Buena (Sierra Vista), and Patagonia. Study materials are distributed, and about a week later students take a qualifying test on those materials. The test consists of 50 true/false questions. The highest scoring students from each school advance to the next level — a 60-second video. The videos are scored by four judges. These judges are often teachers, journalists, directors of community or youth organizations, and/or representatives from other cooperatives. Students with the top-scoring videos advance to the semi-final level. They receive a packet of study materials about cooperatives, rural electrification, and energy. On the day of competition students take a test on these materials and have an in-person interview with the four judges. The video, the exam, and the interview are worth 100 points each (for a total of 300 points) to determine which students win all-expense-paid trips to Washington, D.C. Students who do not win earn $250 for their efforts and are given the option of attending the trip at their own expense (about $1,500).
---
The Tour
While in D.C., the tour participants (Tourists) visit famous sites such as the U.S. Capitol, Arlington National Cemetery, Smithsonian Museums, Lincoln Memorial, Washington Monument, and the Vietnam Memorial. They also travel to Washington's Mount Vernon. They visit with their Congressperson, take an evening boat ride on the Potomac, and attend a stage show. In addition, Tourists have the opportunity to get to know more than 30 other students from across Arizona. They will also tour with and meet hundreds of students from other parts of the United States. The Arizona delegation includes SSVEC's students as well as Tourists from Trico Electric Cooperative, Mohave Electric Cooperative, Duncan Valley Electric Cooperative, Navopache Electric Cooperative, Navajo Tribal Utility Authority, and Tohono O'odham Utility Authority. For additional information, email Michele McCollum at mmccollum@ssvec.com.
---
2024 Washington Youth Tour Info
School Presentations (Aug thru Sep 2023).
Video Deadline (Oct 6, 2023-For Schools with Fall Break)
Finals testing and interview (Nov 8, 2023) Benson Schools, Benson Arizona
Youth Tour trip June 2024 (Exact date TBD)
---
Media
Below is a media collection of prior year's Washington Youth Tours
---
Get in Touch
---
We always love to hear from our student community. Feel free to drop in or contact us during our business hours.
Hours
---
Monday – Friday 8am – 4pm
Saturday Closed
Sunday Closed
---