The Program
The Sulphur Springs Valley Electric Cooperative Foundation will present thirty $4,000 scholar-ships to graduating seniors in the cooperative's service area. One graduate from Benson, Bowie, Buena, Patagonia, San Simon, St. David, Tombstone, Valley Union and Willcox high schools will each be awarded a scholarship.
---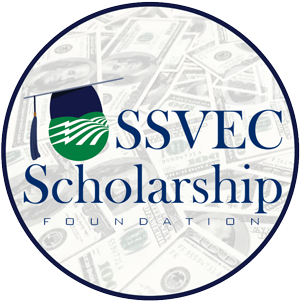 Eligibility
The Foundation will award one-year scholarships to dependent children (students) of members of Sulphur Springs Valley Electric Cooperative, Inc. To qualify the student must be claimed as a dependent on the member's taxes and have plans to be a full-time undergraduate student of an accredited college, university, vocational school or other post high school educational institution defined under Internal Revenue Code Section 151 (4). Students must be registered and complete 12 hours of course work per semester (or the equivalent) to be considered full-time students. Note: Students must be a senior (12th grade) and graduating in the spring of 2023.
---
Qualifications
Applicants must rank academically in the top ten students of their class or be in the upper twenty percent whichever number is greater. (SSVEC verifies the class ranking of each applicant with his/her school counselor.)
---
Selection Criteria
Recipients will be selected on the basis of participation in school extracurricular activities, community involvement, volunteer work, leadership, character and promise.
---
Applications
Students may now use the interactive online Scholarship Application Wizard to help fill-out and download their completed application form! The Wizard makes it convenient to fill out your scholarship application from any computer, laptop or mobile device.
---
Submitting Applications
Registration begins November 30, 2022. The deadline for return of applications is Tuesday, March 7, 2023. Remember: at least two letters of recommendation must accompany the application. Students may return applications to high school counselors, any SSVEC office or to Marcus Harston (see address below).
SSVEC Office (Attn: Scholarship Committee)
311 East Wilcox Drive
Sierra Vista, AZ 85635

---
Get in Touch
---
We always love to hear from our student community. Feel free to drop in or contact us during our business hours.
Hours
---
Monday – Friday 8am – 4pm
Saturday Closed
Sunday Closed
---